All Places Are Now Booked!
All 9 places have been booked up, so no more places are available!
---
I'm excited to announce 3 new one-day workshops. 
They will be taking place in the amazing makeup studio at Charles Fox, in the heart of Covent Garden in London.  
It has a large air conditioned makeup studio, is a great location and has amazing bars and restaurants nearby for after work drinks!  It's the perfect location for an awesome workshop, and the perfect time – it's summer and takes place just after the London IMATS!
Each of these three workshops are all designed to achieve three things:
To discuss with you one-on one – before the workshop – your interests, what you want to learn and concerns you may have so the workshop can better suit your needs.
 To deliver a suitable package of training – theory, demonstrations and hands-on practical experience so you leave understanding the principles and can do it again.
To supply you with a good-quality kit which will enable you to continue using the skills and techniques covered after the workshop has finished.
My year is already booked doing FX for a show up until December, so I am not likely to be able to run any more of my UK workshops this year – so if you want to hook up and work together then this is probably the only chance I will have until 2015 to do so.
Here is a more in depth look at the three one day workshops in July.  Please note there will be a maximum of 9 places available for each of these workshops!

Any questions? Email me!
---
 1. Lifecasting with silicone – 1st July 2014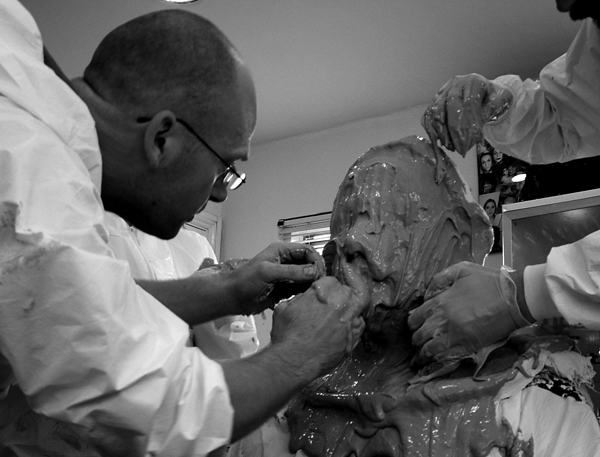 Lifecasting is the first crucial step in creating custom fitting prosthetics.  It is important to take a good life cast safely and accurately and that is what we are going to do in this brand new workshop using the latest materials.
This exclusive workshop will start before you even arrive.  We'll chat in advance so we can discuss your needs and experience, and make sure that we over what you want to do..
You will also get a lifecasting kit to take away from the workshop so you can practice what you have learned.  After all, there isn't much point in learning a new skill and then walk away without the stuff to go ahead and do it again yourself later.
Most have heard of alginate used to take lifecasts, and whilst this is still a useful material, more and more professional lifecasters are using lifecasting silicone instead.
The benefits of silicone over alginate are:
You can create a reusable mould which can make multiple casts
Silicone does not shrink and will keep for years
Can be built up in layers rather than mixing a huge batch at once
Less material required for a stronger cast
Because there is no water involved, you can cast resin directly from it
Easier clean up and removal from skin and equipment
Because the original cast taken from skin is reusable, it is actually a very economical system.  You mix only what you need, and because silicone will stick to itself (unlike alginate) you can build up layers if necessary rather than mixing one single batch.
It also has great tear-strength, and is much more durable than alginate (which is water based) and as a result can shrink and distort quite quickly.
Workshop Content
It is important that I know what you want to learn and what kind of experience you may have had.  Based on our conversation which we'll schedule before the workshop, I will put together a programme that incorporates your interests.
On the actual workshop day, you will be presented with your lifecast kit which contains professional grade materials sufficient to make another cast in your own time after the class is finished.
This kit is yours to take away complete – I will supply the materials for the class itself, so you don't need to use it on the day!
We will then go through popular brands of lifecasting silicone, and I will demonstrate them for comparison before doing a face and hand cast on a live model.  We'll go through the whole process from start to finish, and even fill it with plaster so you can see what the final cast from it looks like.
Then you will spend the afternoon practising lifecasting yourself – you have to get your hands dirty to know this stuff!  We'll look at taking various kinds of cast so everyone can see and feel the materials and processes thoroughly. We'll look at face, ear and hand casting in particular as these are the most commonly needed areas.
We'll look at commonly made mistakes and how to correct them to get a real understanding of how to use lifecasting silicone to get a great cast.
After the workshop has finished, I encourage you to practice what you learned with your take-away kit.  You can send me pictures of your work, and we'll have a chat either on the phone or through Skype to review your work and see how you can improve.
(Incidentally, you can check out the lifecasting podcast & blog post Todd & I did earlier this year by clicking here.)
Fee
The whole package of scheduled calls,  one day workshop, notes and silicone life casting kit to take away costs £300. 
You can book a place and pay by using the button below, or scroll to the bottom of the page to book all three of the one-day workshops to get the discount.

---
2. Prosthetic Sculpting Essentials – 2nd July 2014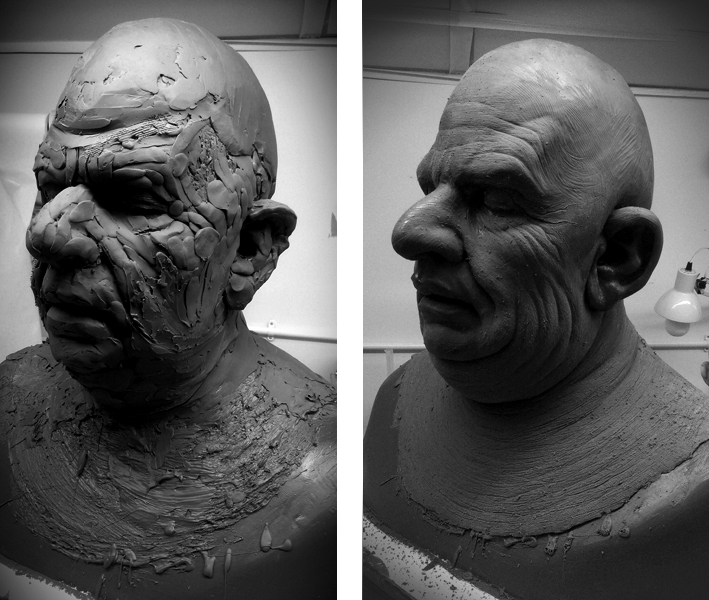 Have you done any prosthetic sculpting before?  Not sure where to start or how to improve?  This workshop is a masterclass of essential prosthetic sculpting, not just techniques for pushing clay around but also looking at the right approach when starting.
Blank canvas syndrome, with a plain lifecast staring back at you, can be daunting but the sculpting happens before you touch the clay!  We'll look at how you can cultivate the right approach to start putting clay in the right places.
To ensure you get the most out the day, once again the workshop will begin before you even get here.
We'll chat through what interests you, what experience you may have and most importantly, what you find difficult.  I'll make notes along the way and make sure that when we are together at the the workshop, your needs are included in the work we'll do.
On the day of the workshop, you will receive your own sculpting kit.    This isn't a hasty collection of cheap pottery tools – no way! This is a very exclusive collection of tools and equipment which I have put together using the finest materials available.
I'm not even kidding – it will include the essential sculpting tools which I keep in my own kit – most of them are made by me personally, as many of the tools I like can't be easily found.
These include finely finished wooden sculpting tools which I will have smoothed  and prepared in oil to ensure long life and better performance.  I treat all my wooden tools to a lengthy linseed oil treatment which has meant some of my tools are over fifteen years old and still going strong. (my tools go missing rather than break!)
There are also some special loop tools and rakes which are ideal for creating a range of effects.  By putting together my personal favourites into a  collection, you'll be able to work continually using the best tools for the job.
However, tools alone are not going to get you far so I will include a few casts to work on too,  some of my favourite plastiline (I am quite fussy about that) as well as some texturing sponges, plastic sheeting and talc and a few other goodies I use to create realistic forms and textures on my prosthetic sculpts.
The casts and plastiline can be used again and again, so you can create endless sculpts using the same kit over and over.
I basically condensed my favourite tools and materials into one box – my favourites which I arrived at after using all kinds of tools for 20 years – so you can walk out with everything you need to start sculpting your own appliances!
Workshop Content
Based on our conversation prior to the workshop, we'll start with a presentation showing various sculpts to get your creative juices flowing.  We'll take a look at various artsists work and make recommendations of artists to check out for inspiration.
I will demonstrate roughing out a basic form on a cast, and then we'll all get stuck into blocking out a form based on reference I will provide. Establishing correct form from the outset is important, and by checking over your progress, we can make corrections aand adjustments as we go.
We'll then look at refining techniques, where forms are smoothed and softened to help the shapes flow and appear more skin-like.  Finally, we will take a look at texture techniques and creating natural skin effects using the tools in your kit.  By the end of the day, we will have gone through all the key stages in producing appliance sculpts as well as some tricks and timesavers
After the workshop, I encourage you to practice sculpting on the casts using your sculpting kit.  Photograph your work and we can schedule a call and have a chat to discuss your progress.
The cost for the workshop including scheduled calls, a days workshop and your exclusive sculpting kit to keep, use and continue to sculpt with is £300.

3. Prosthetic Application Essentials – 3rd July 2014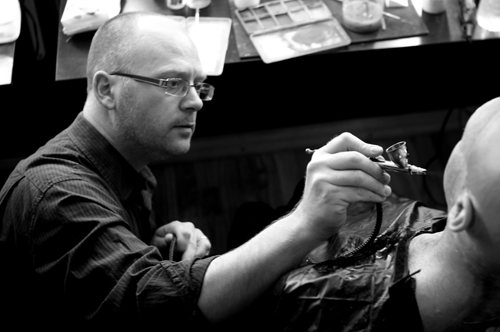 After making appliances, the task of sticking the final result onto another persons skin is the final stage. 
Many people find getting good edges and matching the skin tone a challenge, so this workshop is designed to address all of these issues in one tidy swoop.
I certainly remember trying to recreate a latex Lost Boys vampire brow on my own forehead when I was fifteen and thinking…"Just HOW do I mix a colour that looks like my skin? I mean – would it have to look like a pot of liquid skin if it was going to be the right shade? "
I got it wrong a lot before I gradually understood how it is arrived at.
Silicone appliances are now used extensively in film and TV, as well as bondo transfers but latex still has it's place as it is easy to use, cheap and incredibly durable too.  All these materials have different properties, and the idea of this workshop is to blow all the mystery out of the way you you can focus on what is important.
Like before, there is a specially assembled kit waiting for you. 
When I say specially assembled, I mean this once again this is professional level kit which doesn't exist as a single item – I personally put this together purely for this workshop.
This collection of application materials contains:
Four Silicone Appliances
Four Latex Appliances
Skin Illustrator Starter Palette
Brushes
Pros Aide
Remover
Cotton Swabs
Edge filler
Wet Wipes
Cotton pads
Skin Cleanser
Witch Hazel
99% Alcohol
Acetone
As with the other workshops, we will do better work if I know what you want to learn.  So, we'll schedule a call to talk before the workshop day to discuss what your concerns and weak areas are so we can put together a programme that really drills down to what you need most.
Workshop Content
On the day of the workshop, we'll go through your kit over coffee and talk through the various contents.  Then I will demonstrate on a live model application of latex, silicone and bondo transfer appliances.  As these materials have different properties, it is good to see all of them on the same skin, and you can see up close how they compare.
We will focus on the key areas of application:
Preparing the piece
Preparing the skin
Application of glue
Dealing with wrinkles, folds and air bubbles
Getting good edges
Fixing bad edges
Applying colours using brushes, airbrush and sponges
Then there will follow a hands on session with models, allowing you to apply some pieces yourself.  We'll look at common errors, and how to correct and avoid them where possible.
Just as with the other workshops, you can use your application kit to practice what we covered, and send me pictures so we can recap and discuss what you can improve on and how you can do it.
This workshop with the scheduled call, workshop, exclusive application kit with appliances, models and materials on the day costs £325.
————————————————-
Any questions? Email me!