This podcast was a lot of fun to do.
I met up with the Mekashes (Eryn and Mike) at their hotel as they were over for The Prosthetics Event here in the UK.
I was lucky enough to squeeze in a face to face interview and had a frankly wonderful time chatting with a couple of lovely people who also are amazing artists and FX nerds.
Her credits include TV shows Glee, Nip/Tuck & Movies such as Flags of our Fathers, Letters from Iwo Jima, My Sisters Keeper. As per her IMDb bio:
Eryn Krueger Mekash has 30 years of television and film industry experience as a makeup artist and is diversified in beauty, makeup effects and design. Her credits cover a wide range of productions. Eryn started her career in the special makeup effects field in Los Angeles.
Eryn has won 6 Emmys and 6 Artisan awards and well as 29 Emmy Nominations for outstanding makeup, prosthetic and non-prosthetic. She is the department head for FX's anthology, American Horror Story (2011), and can still make a nice mold in a pinch.
Listen here, or on Apple Podcasts/iTunes. Soundcloud or whatever podcatcher you like to use. It's a hefty one, almost 2 hours so get stuck in!
We are also now on Spotify, so check us out there too!
---
On Soundcloud
---
We talk about the great book Leading Ladies of Makeup Effects in which Eryn features, being a department head for FX heavy shows like American Horror Story, how much fun Halloween is at Rick Bakers place and recreating The Lost Boys thirty years on using pieces from the original moulds.
---
Todd was printing a head of himself to make 'Chocolate Todds' so that's the sound you can hear in the background. Todd discusses the finishing up of his third edition to the well-known FX bible Special Makeup Effects for Stage And Screen! Hear all about the goodies in store there in the podcast.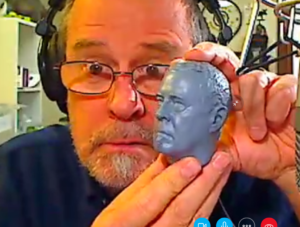 Incidentally, the antler in question which frankly I think looks like something which needs batteries is this:
WINNER!
The winner of the Steve Wang Sculpting Tool Set is Darren Pastor –
well done fella. These will be on their way to you soon!
---
As ever, get in touch on our Facebook page, comment here or email us stuartandtodd@gmail.com.
My sincerest thanks for the Mekashes for giving up their time so generously and for all the beer and pudding!
Until next time!
—
Stuart & Todd