IMATS LA 2017 was a blast!
I landed last night and wanted to get this down whilst it was still fresh.  IMATS was a great time – I lost count of the amount things I saw which almost had my eyes popping out of my head.
Check out the new podcast episode!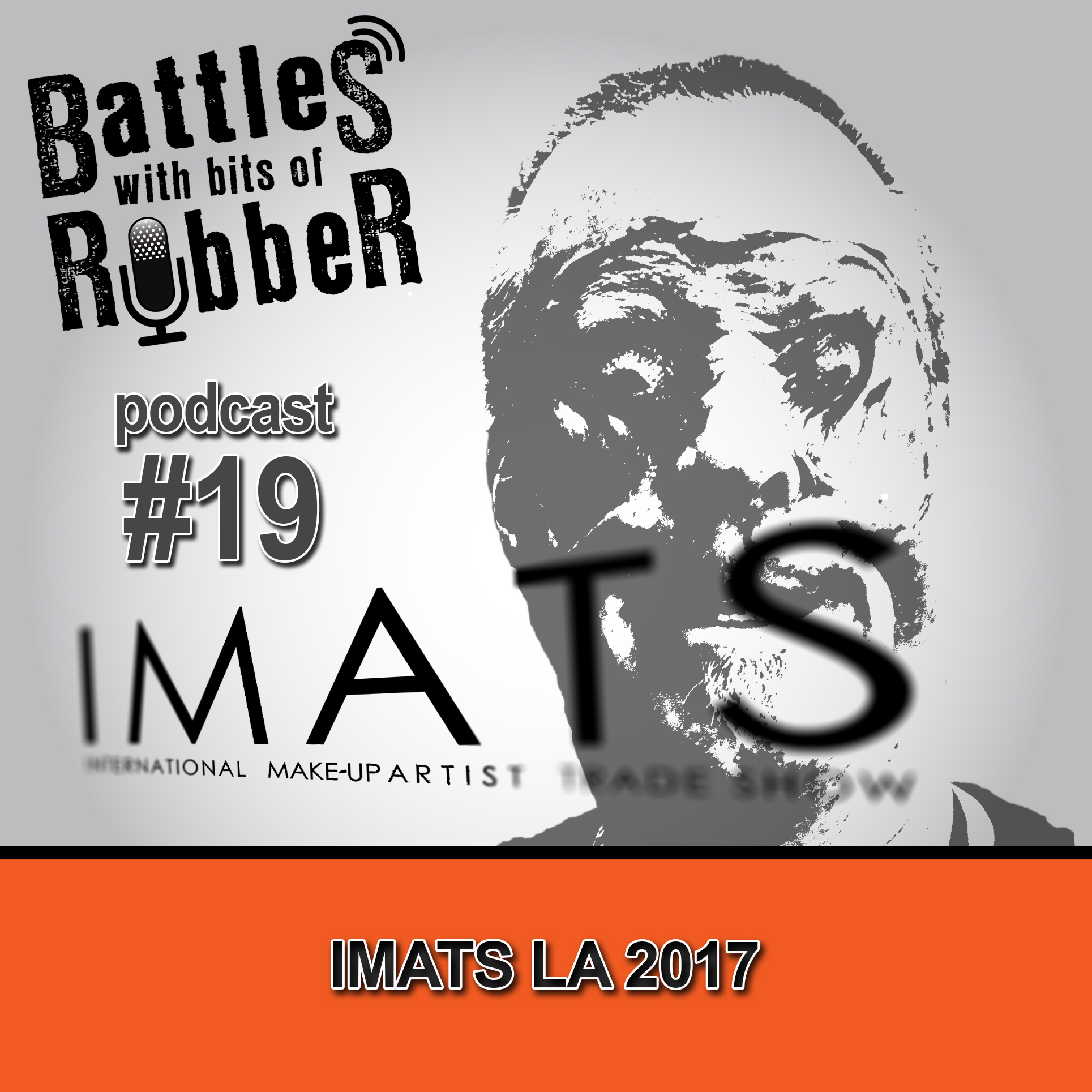 I went to the first ever IMATS in 1997 at the Beverly Garland Hotel, mainly as I wanted to meet the mighty Dick Smith and hopefully see my other makeup heroes.  Here I am attending an LA IMATS on the 20th anniversary as a speaker. Pretty special for me.
This is a review of my IMATS, my perspective. I know there was much there that I didn't get to see as it is a huge show in a huge venue. I was doing demos and talking to lots of people, so every attendee's story is going to be different. That's the beauty of these events – lots of people seeing the same thing but all seeing something different. Also this post is not a 'making-of' for the makeups….that's the next one! I'm on it.
---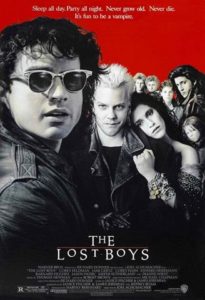 Of particular note was all the things Lost Boys related, and it was a real joy to get up close and examine the moulds and pieces at length. I've been a fan of that movie since I saw it as a teenager and knew every scene inside out.
To be able to linger and look was quite a privilege. Talking at length about it with Greg Cannom personally was also an hour of my life that I'll never forget! 
There was a display in the makeup museum featuring original moulds, prosthetic pieces, dentures and lenses as well as the 30th anniversary (yes – The Lost Boys is 30 years old!) panel talk featuring cast members and makeup artists Greg Cannom, Ve Neil and Steve LaPorte.
An unexpected treat was that the panel kicked off with a live performance of the movies' theme 'Cry Little Sister' by Gerard McMahon.  Massive nerdgasm!
There was even several sets of contact lenses there to see. They were very effective and added a huge amount to the character. Lenses have always fascinated me, as they are not something I personally have anything to do with outside of the occasional daily disposable.
What I like about the opportunity to study at length something which seems familiar (but actually isn't when you study it) is that you can abstract it and see the item as series of shapes and colours. You can identify it as an object made up of a series of choices and that then makes it something obtainable, something which you too can make if you cared to take the time to do so. That is true magic right there!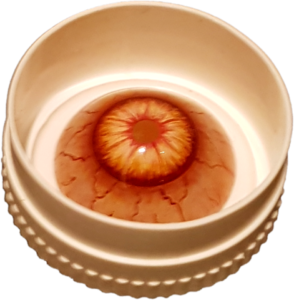 The vampire dentures were also a joy to study, as I tried from a VHS freeze-frame to copy these when I started out playing with makeup. Indeed- I owe a lot of my enthusiasm for makeup to this film and the effects in it. To be able to look at the real things and understand what I was seeing felt a little like the closing of a loop. Pretty special.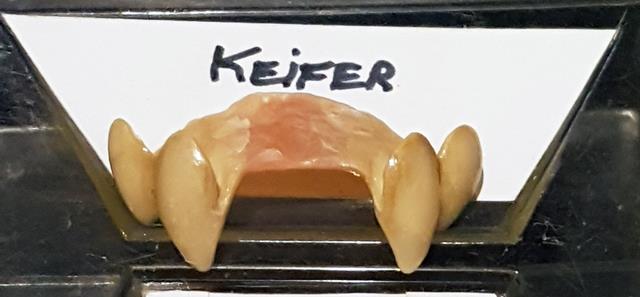 The panel was good fun. Moderated by Paul Davis who is writing a book about the movie (he also did one on An American Werewold in London and a documentary about Fright Night….I recommend all of these by the way!) we heard from the makeup team as well as a few cast members about their recollections of that time in Santa Carla, the murder capital of the world.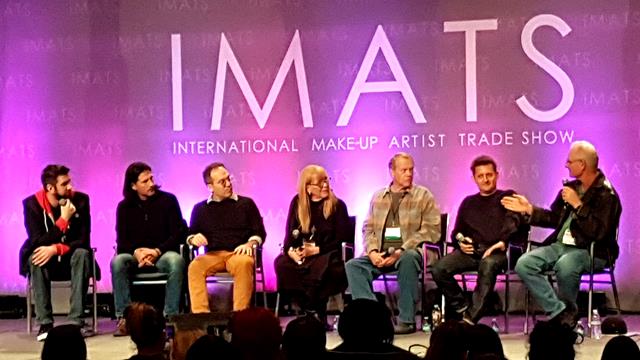 ---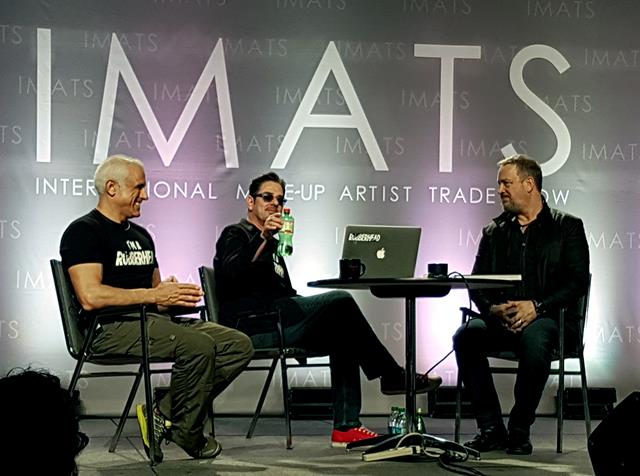 Also was the pro night on Friday which kicked off with the launch of Steve Johnsons first volume of RUBBERHEAD: Sex, Drugs and Special FX.  Michael Key interviewed Steve Johnson and Sandy Collora, and they chatted about the collaboration which brought this incredible work onto the bookshelf and its long journey.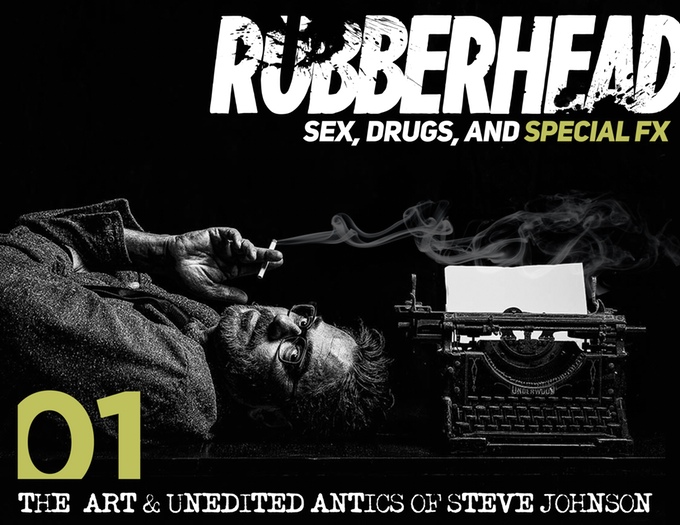 As is usual at these shows, a great many live makeup demonstrations took place, and none are more involced than those done by Thomas Surprenant who has made quite a reputation for massive, full body makeup demonstrations.  Always a tour de force, it was a joy to watch the guy work hard and he even allowed me to lend a hand for a time.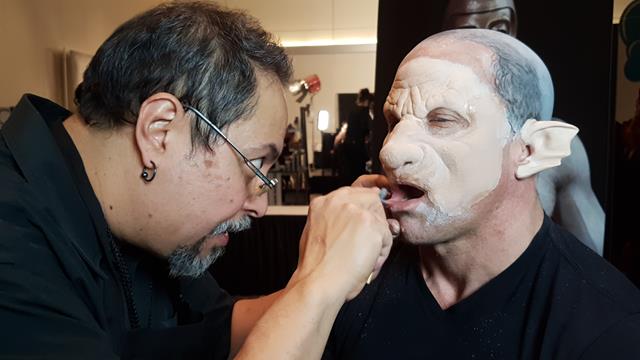 ---
As to my involvement, I had my talk on stage which I shared with Todd Debreceni where we discussed some of the important aspects to learning the craft. As usual, my angle is one of ground up, no fluff or sales pitch but an honest discussion about the nettles one must grasp if you are to make real progress and get better.
The content itself will be another blog post and a podcast, as we agreed the material was so dense that it needs its own post where we can drill deep and get right into it.
I spent Saturday with Titanic FX, where I did a demo of a worm infested makeup (more on that next time as I have documented the making of it from start to finish) and on Sunday I applied my 'bug-eyed Hypno Todd' to my podcasting buddy Todd Debreceni on the London Brush Company stand. More on this next time!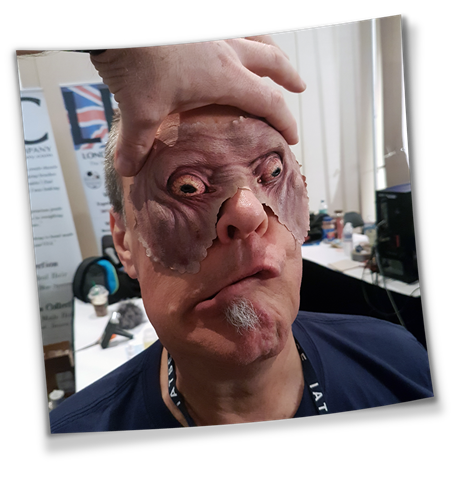 Please drop comments down below or write to us at stuartandtodd@gmail.com. Let's hear your thoughts!
Till next time –
Stuart