The second makeup demo was a triumph of old and new.
Latex and silicone working in perfect harmony, with a budget to make the tightest of workshop strategies proud! 
I used an existing lifecast mould I had taken previously – so admittedly that was a bonus but aside from that, this was s pretty low budget affair with high impact. This free workbook details everything for you – get it here.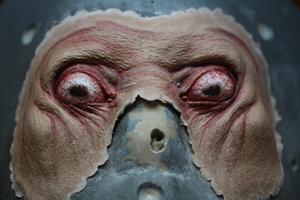 Latex is often overlooked as people perceive it as this lethal material which has epidemic proportions of allergy.
Whilst it is true that latex allergies exist, it's also true to say that most people don't, and those that do usually know about it. That said, it is sensible to check and do a patch test to make certain if in doubt.
Overall time spent was about 6 hours sculpting, two hours moulding, 1 hour casting and two hours painting- that is spread out over a few days as there is drying/cleanup time involved too but the point is in terms of overall labour input, it was pretty economical.
Consider the first couple of hours I was pushing clay around trying to find the damn sculpt within the clay whilst pushing away demons of self-doubt and the realisation that maybe I can't sculpt any more. I hope that's reassuring to anybody else who has those psychological imps that know you so well as to point out your flaws and point at them with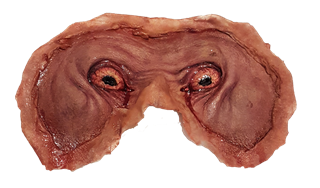 Anyhow, the process from start to finish is covered in this free workbook to download.  Just click here to go straight to it.  No funny passwords or access required – just a solid PDF which I urge you to share and absorb if you or someone you know would find it useful.
Right, I'm off to the workshop. I have a couple of sculpts waiting for me and I can hear their whispering from here. Brand new tube of plastiline to break in too…..does it get any better?
-Stuart