Podcast #10 – Foam Latex: It's Smelly But Good!
Foam Latex was the main material appliances and pretty much anything skin-like was made of for long time. It is only relatively recently that silicone has taken it's place, and with good reason.
There are a lot of benefits to silicone as an appliance material, and because of these reasons it may be that if you're new to makeup effects, you may not have yet laid hands on foam pieces..
It may be that you'll never want or need to run foam latex yourself, but will apply a premade piece and we will look at that in another podcast, as this area deserves some thorough discussion. However, if you are keen to know more about foam latex then this podcast is for you.  Check out some astoundingly good ready made pieces from Roland Blancaflor's RBFX studio.
Anyhow, check out and download our latest podcast on this from soundcloud or iTunes:

---
My first ever job was as a foam runner, and I spent three months mixing and running foam latex in the 'Animated Extras' foam room in Shepperton Studios in the summer of 1994. It was a smelly and messy job, but it taught me a lot about materials, moulds and how it all fits into the pipeline.
I cut my teeth on making and applying the opaque material, and when we started using silicone instead for the majority of pieces, it was a revelation to start with a translucent material.
Painting foam latex requires a different approach, as the piece needs to be the correct colour but the real challenge is to create the appearance of translucency.  Thomas Surprenant knows a thing or two about painting foam latex too – he has an excellent range of PAX paints for painting latex and foam latex pieces. Check them out here.  We'll delve more into this later!
To help you along with this, check out these free resources you can download:
---
In product news, it's well worth checking out the new cap plastic beads from Neills Materials. Check them out here.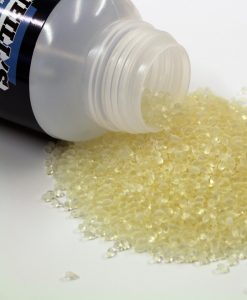 Essentially, cap plastic was always sold as a liquid and this made it a 'hazardous' item as far as air freight was concerned should the container leak. It was never an issue for us in the UK where we had things sent by road, but air freight made it a different issue.
However, by selling the raw plastic bead with no solvents, you can now more easily get the beads shipped to you are then melt them in acetone you obtain more locally to make up your own cap plastic.
Also check out the new adhesives, PRO-KEY acrylic adhesive and SIL-KEY silicone adhesive with thinners. I've used these myself and tried them out on a few makeups and can vouch for their quality!
---
If you enjoy this and want to help support us, please consider these three easy (and free) gestures which would help us a lot:
1. Subscribe to us on iTunes or your favorite podcast app (for example Sound Cloud).

2. Leave a review on iTunes – it doesn't need to be a lengthy paragraph….just a few words to say if you enjoy it is fine! It just lets iTunes know the audience are engaged, and tells would be subscribers what real people actually think of us. This kind soul did:

3. Tell someone else about the podcast! Sharing is caring.
Thanks for listening!
Stuart & Todd
stuartandtodd@gmail.com