It's just me today as Todd is pretty sick with a bad cold, so get well soon Todd. Hope you get fixed up and back on track soon, fella!
We've got a great interview with someone who was the first person I ever got in touch with. Geoff Portass started Image Animation with business partner Bob Keen, and the company worked on some iconic genre movies and shows in the late 80's and early 90's. They also spawned the careers of some of the best known fx artists working today.
I still have my letters from 1990 when Geoff replied to my questions when I was 16!  I sent foam samples of foam latex I had made at home and asked about the makeup they used and replied every time.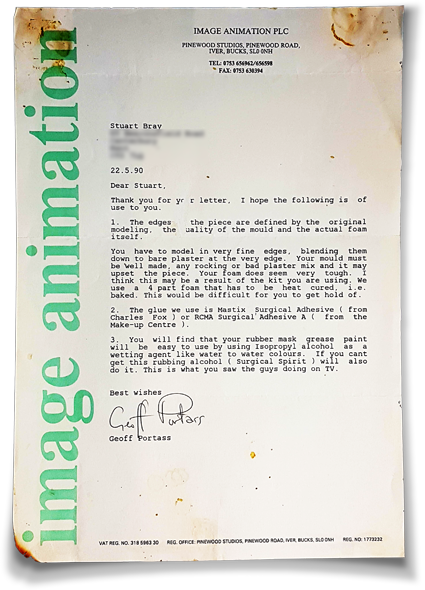 I also remember meeting Nick Dudman at my college in 1993, when I basically cornered him for half an hour and asked him all these questions that nobody else could answer – pre Goole etc.
(I then went on to work for Nick on a few Harry Potter and Mummy movies.)
Anyhow, I drove up to Geoff's place and we chatted for a good few hours and I had to split this into two podcasts, as there was so much material and it seemed to fall into two logical topics – the film stuff and the teaching stuff. So, this is part 1 which looks at the film stuff and the next episode will be looking at the teaching stuff too.
---
Just a quick mention of some new workshops coming up at Pinewood studios in the next few months, keep an eye out for announcements and dates on the workshop page :
http://www.learnmakeupeffects.com/workshops/
Lastly just to remind you that we'd love to hear from you. Feedback is always welcome and as we normally look at solutions to problems (hence the podcast being called Battles with bits of Rubber).  Our email is stuartandtodd@gmail.com
The podcast is available on iTunes, from Soundcloud and various other podcast directories.  Please consider leaving a review or sharing this with people you think would dig it too if you enjoy this episode – it would really help us out!
Thanks so much!
Stuart & Todd