I recently did a few effects for a TV show, and one involved a torture scene with skin being cut by a knife with bleeding live on camera.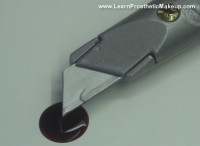 There was no budget or time to make a series of fake chest sections to be cut with a real knife.  Besides, I was not sure if the shot was tight enough to be able to use a prop section like that or indeed what angle the camera would be.  No…it was going to have to be much more basic than that.
I had an idea about how to do it, and it worked rather well.  I recreated the process and videoed it so you can have a go too if you fancy it.  It's not for the squeamish, though!
Funny thing was, I actually used a cheaper knife for the actual show, but used a Stanley knife for this tutorial.  As you will see, there were a few problems that I had to overcome in this which I actually did not have to deal with on the real job.
————————————————————————-
If you have any questions, comments or actually have a crack at making one yourself, then please do comment below or get in touch!
-Stuart