Well, IMATs is nearly here again, and I do love a deadline!
Anyone who got in touch recently got a hasty 'Can't talk, I'm editing' response as I have been knee deep in fixing up the Spectacular Sculpt Gel DVD which I will go more into in another post. 
However, I bounced straight out of that deadline into another self-inflicted one.  I decided to crank out a quick makeup for the show (I'll apply Saturday, all being well) and figured the best way to keep myself committed was to tell everyone about it so they could follow and remind me to focus if they see me on Facebook!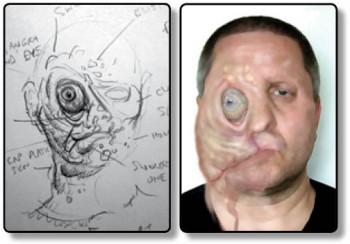 Anyhow, I will be sticking on a big bug-eye thing onto Paul Ewen who, patient as ever (he wore the Coraline makeup too) will be lurching around looking menacing.
I sketched out a rough idea and then did a quick Photoshop render just to see how it looks (left).
It is constantly changing as these things do, largely because I am just doing it for a bit of fun and also, there is no brief other than the first idea that popped into my head.
Pushed for time, I cranked out a core mould and made a quick core this weekend.  I had just enough lifecasting silicone, some plaster bandage and some urethane resin to make the core.  In the pics below, you can see the plaster head which has been modified to take out the undercuts around the ears and the other side of the nose.
I then made  a quick silicone mould and made a plaster bandage jacket to support it.  Then I made a clay wall around the edge of that so I could swill the urethane resin without it running over the sides, and support the clay with bandage too. This just makes it a stronger wall which I know will not break off or leak while I concentrate of filling the mould.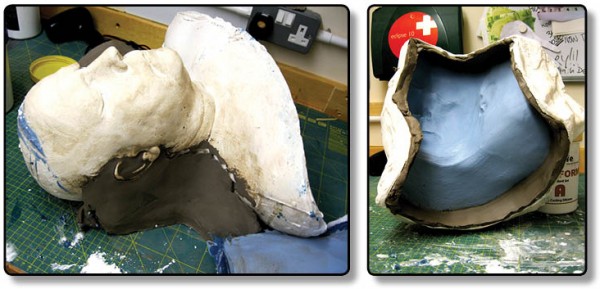 It took about an hour and a half to make the core mould, and then about an hour to swill the silicone with about seven mixes of urethane. I also used a filler to bulk out the last few layers so it became like a paste and I could model the back into a strong shape.  The core is about 25mm/1″ thick with chunky edges.  If I drop this, it will break the floor.
You can see on the pic below right that the clay came off and stayed with the resin core, but peels off easy and I rinse this baby in water to get the fella clean and baptised, ready for sculpting!
And so onto sculpting.  Today I roughed out the shapes and started refining but I noticed it is a good deal leaner than the Photoshop design, and I kind of like the bulginess of it.  I may have to change it tomorrow…and tomorrow is all I got as it needs to be moulded on Wednesday and cast out on Thursday!!!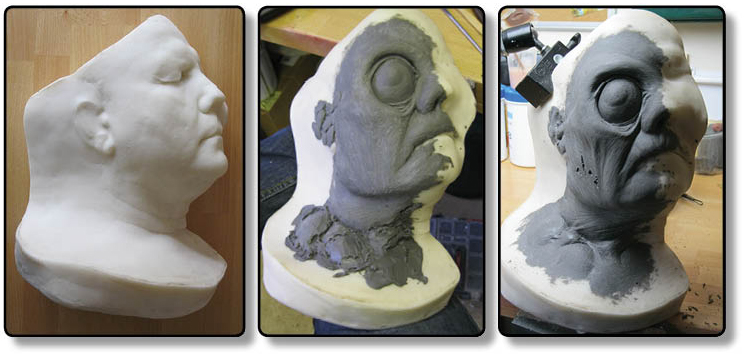 I am not sure what to think, but comments are welcome.  Let's just recap – time spent so far…idea Friday night, core mould and core made over weekend – probably about three hours time total so far – and today (Monday, January 30th) I spent probably three hours sculpting.
I will post again tomorrow with updates and you will hopefully see a finished sculpt!  And very hopefully, you can come and see me at IMATs sticking the thing on.  Hopefully everything between now and then will work perfectly!
-Stuart

All material, images and text © Stuart Bray 2012