Torn Face Zombie – simple & cheap!
Halloween is almost upon at time of writing, so I thought it was high time I do a video tutorial to celebrate.  With just a few simple materials, this little beauty could be lumbering down your street soon.
Zombie walks, parties and just plain silliness sometimes require an extensive makeup which doesn't cost a lot of money – something more than paint, powder and pus but which does not require a Hollywood (or, more likely, a Watford) FX studio either.  Hopefully, this will bridge the gap.
Incidentally, there is a well known design dictum which I first saw pinned to the workshop wall a few years back on a movie we were working on.  It had a triangle, and the words "Good – Quick – Cheap" written at each corner.  Underneath this it said "Pick two – you can't have all three".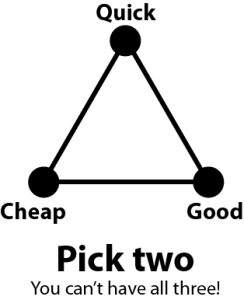 I don't know who came up with that, but it absolutely holds true.  If something is required to be good and you want it quick, it inevitably is not cheap.  If you want it quick and cheap then it probably wont be very good.
Well this makeup effect is good and cheap, so the price we pay is time.  Give yourself a couple of days drying time to make this.  The actual labour time is pretty small – I spent probably an hour making this in total – but you will need two days (or a Texan night) to get this fella dried up properly.
Check out the video below and please comment and click the like button in YouTube if you do indeed like it.  Be sure t0 get the free workbook download too so you can refer to it later if you plan on making this thing and if you do…please send me pics!
I would love to do a post on the results!  My email address is mail@learnprostheticmakeup.com.  Go on…do it do it do it!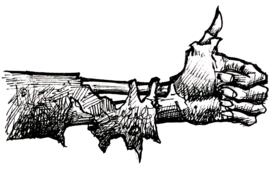 Happy zombification!
-Stuart
All material, images and text © Stuart Bray 2011